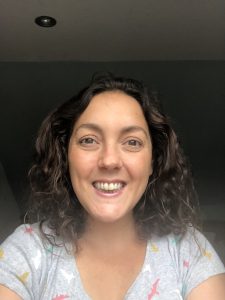 Anna is our CEO and one of our founders.  She juggles a lot of Kinlochlovin' responsibilities including running all the 1:1 therapeutic play sessions. Anna is a teacher with more than 15 years' experience of working in Schools in Scotland and internationally. She became interested in expanding young people's opportunities to support their health and wellbeing and recognised the benefit of supportive and  extra-curricular activities on a young person's mental health. Anna strove to improve opportunities for all young people to these services.
Anna is a qualified 3-18 Additional Support Needs teacher , a Secondary History Teacher and she has a Masters in Inclusive Practice. Anna is also just completing a postgraduate qualification in Play Therapy meaning she is able to provide a very holistic approach to 1:1 support.
Anna is also an adoptive parent of two children and recognises the emotional challenges that come with supporting young people through trauma and a wide variety of life experiences. She is passionate about providing personalised support to young people to enhance their potential to be the best they can. Currently we are striving to make this service accessible across Lochaber.
1:1 Therapeutic Sessions
Play therapy aims to help young people alleviate their emotional, behavioural, and mental health problems.  Play is a child's natural medium of self-expression and is essential for development. The 1:1 Therapeutic play sessions provide a safe and accepted space for young people to 'play out' their feelings and problems whether it be conscious or unconscious. The sessions have a therapeutic aim and are delivered in accordance to PTUK guidelines based upon Virginia Axline's approach.  Axline is a well-known psychologist who developed nondirective therapeutic work in the 1940's based on Carl Rogers person centered approach. She published Dibs in 1964 and it inspired play therapy training across the world.
Play Therapy is based on the development of a child's  brain and the therapeutic play acts as a 'brain sculptor' calming the amygdala and aiding  the release of opioids and oxytocin. This enables young people to feel calmer, accepted, safer and have a deeper sense of wellbeing. With these feelings a child and young person becomes able  to process and regulate their own emotions. No matter how challenging the feelings may be the play therapy gives an opportunity for them to develop their own resilience and coping skills. Sand, puppets, painting, water, music, and clay are some of the types of items which are used in the play therapy toolkit. There is a private playroom in the Ballachulish Hub but Anna can also travel to deliver sessions within Schools.
Some of the benefits of therapeutic play have been evidenced to be:
Improved peer relations
Rise in emotional wellbeing and prosocial behaviours
Decline in behavioural issues and hyperactivity
Improved school attendance
Email Kinlochlovin@outlook or call Anna on 07827292162 to discuss further.